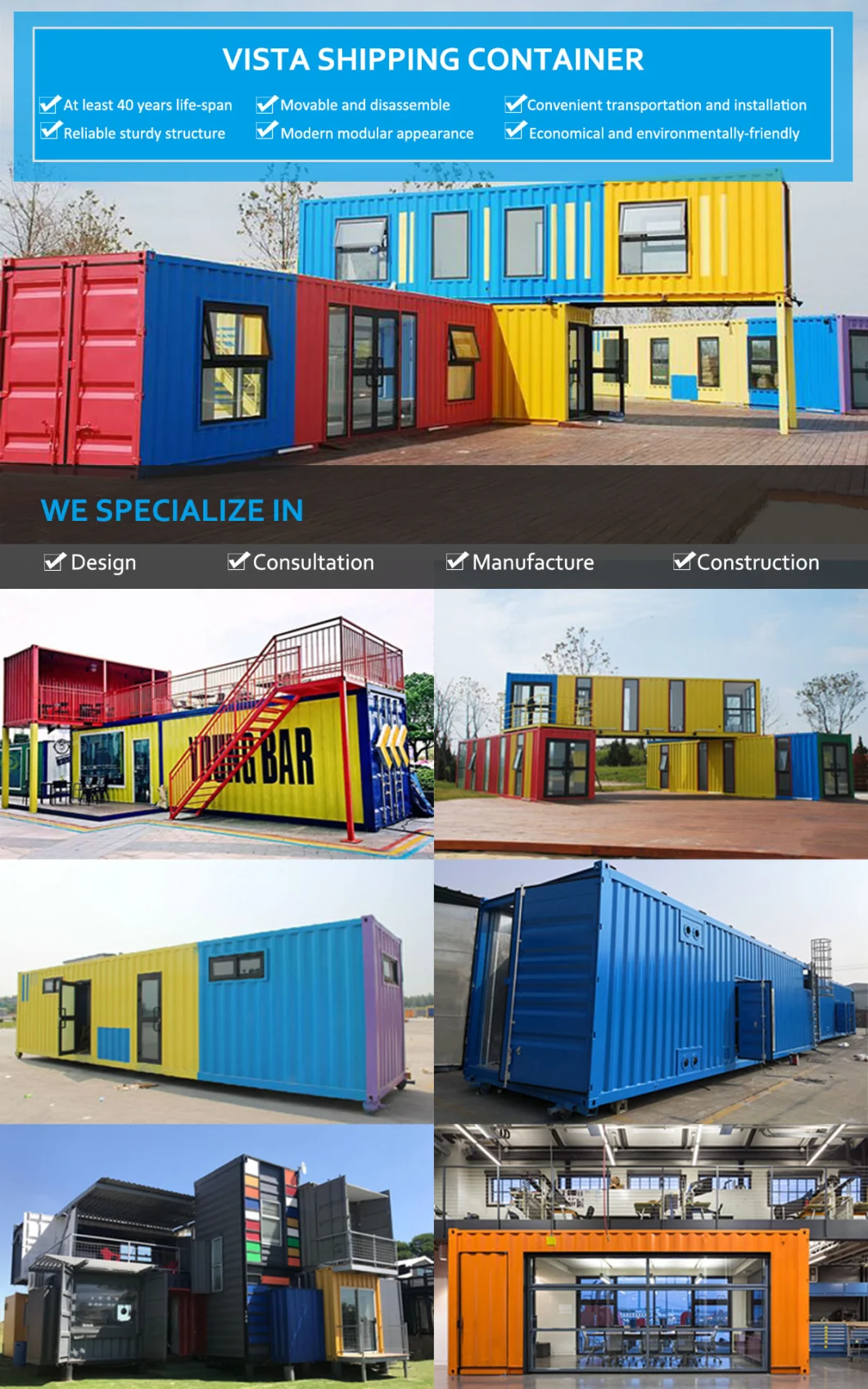 Welcome Visit Our YouTube Channel
https://qdvista.en.made-in-china.com
Videos you might like
1) Sample Show of 20ft Self made Container House
https://youtu.be/Sp-jmdxYZoU
2) Container House Storage & Processing Workshop
https://youtu.be/NBqFcAoCvpA
3) Two-floor Container Houses Display
https://youtu.be/HrlyTD5XEy8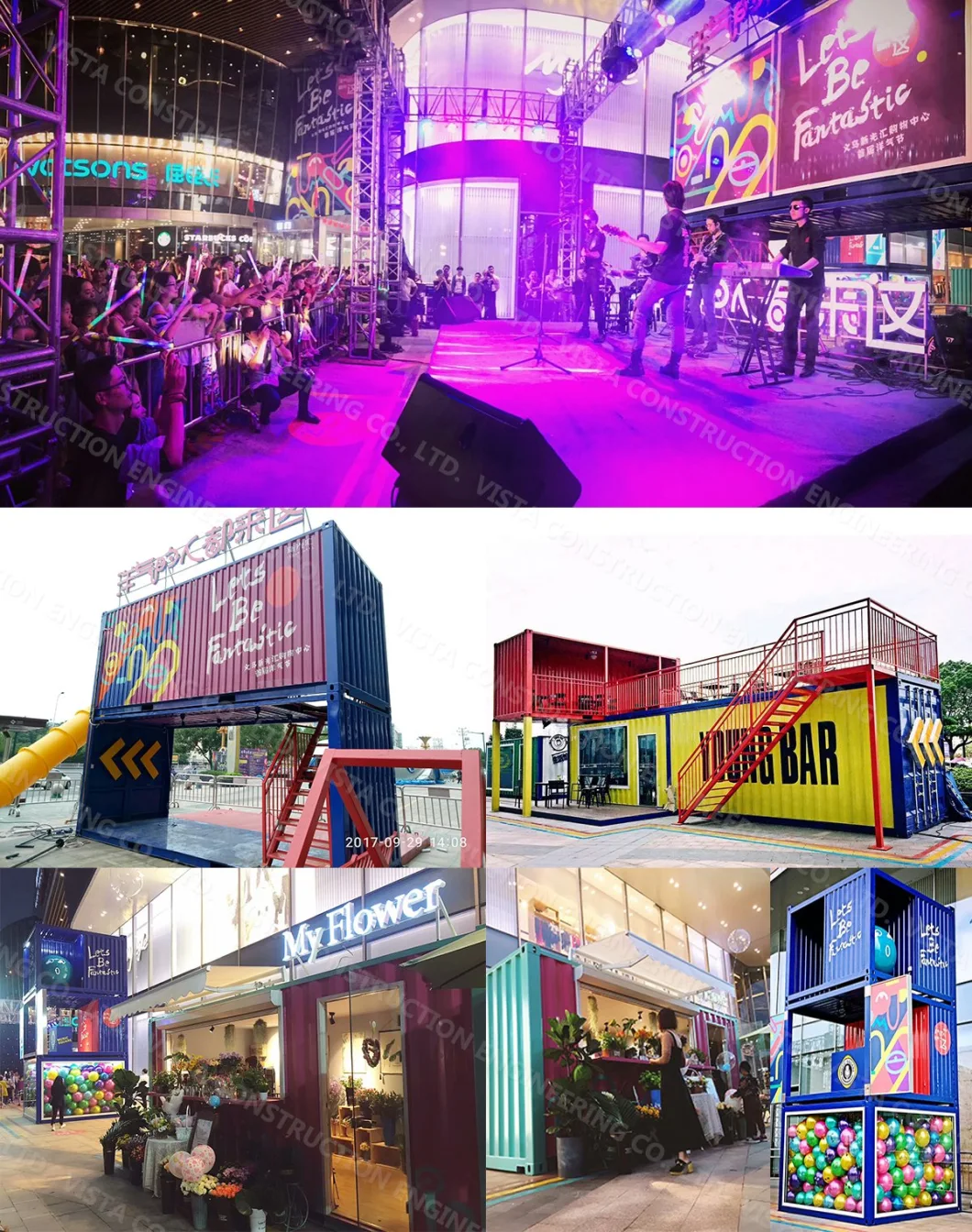 1. Container House Advantages

1.1 Long life-span. up to 40 years.

1.2 Prefab, Pre-installed electrical and plumbing, time-saving.

1.3 Movable And Disassemble. It can be separated according to your requirements. Easy install, transport and relocate.

1.4 Economical and environment-friendly. A short construction period and little workers can be relocated with no waste.

1.5 Convenient transportation can be transported as a shipping container, or flat packed.

1.6 High strength, Live load capacity of roofing: 0.5KN/m2. Second floor load capacity: 150kg/m2.The load-bearing capacity was greater than 40tons. Live load of corridor/ balcony/walkway is 2.0KN/m2

1.7 Waterproof, fireproof, seismic resist. Its wind resistance Grade 11 (wind speed≤ 111.5km/h) Earthquake resistance: Grade 7, External and internal wall heat transmission coefficient: 0.35Kcal /m2hc

1.8 Customizable.various design as per your preference.

1.9 Little requirements on the ground. Being tough and flat is OK
2. Standard Basic Specification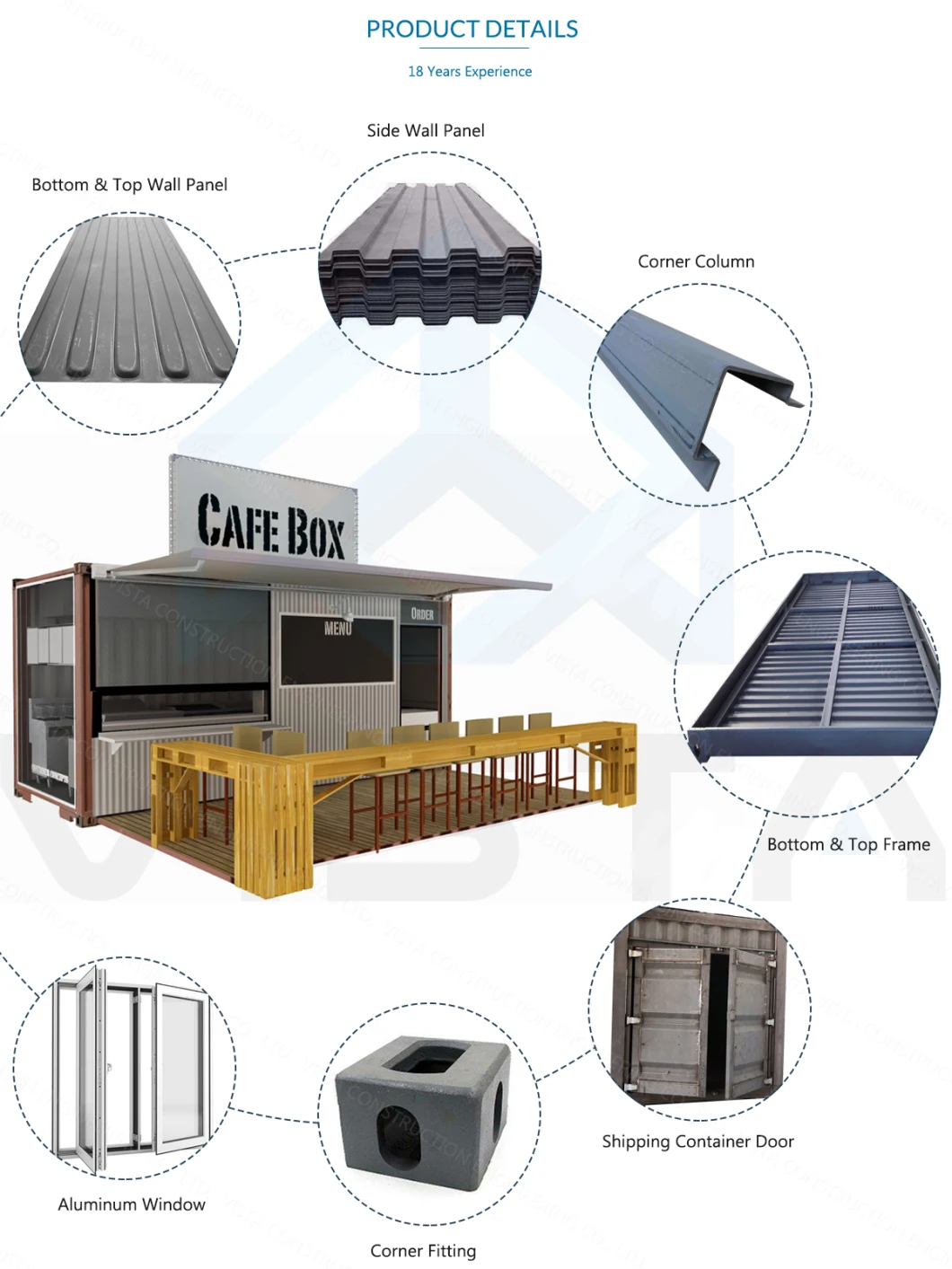 Item

VISTA - Options for Difference Specification

Original container

20ft GP :6058mm X 2438mm X 2591mm (Length, width, height)

20ft HQ:6058mm X 2438mm X 2896mm (Length, width, height)

40ft GP:12192mm X 2438mm X 2591mm (Length, width, height)

40ft HQ: 12192mm X 2438mm X 2896mm (Length, width, height)

Insulation

EPS foam : 50mm, 75mm, 100mm, 150mm (

thickness)

PU foam: 50mm,75mm, 100mm, 150mm ( thickness)

Rock wool :50mm, 75mm, 100mm, 150mm (

thickness)

Wall framing

wood studs

Metal studs

Inner decoration

Gypsum board + ICI

Magnesium Oxide Board+ ICI

Ceramic tile ( for wet area)

Hardwood

Electricity standard

AS standard, European standard, JP standard,

Chinese standard, France standard etc.

Doors

Metal insulated door

wood door, security door, copper door, etc.

Windows

customized size, single glass or double glazed glass

The aluminum frame or PVC frame.
The specifications of the modified container house:
1) Door: outside door as SIP door, aluminum alloy door or security door.the inside door as SIP door, aluminum alloy door or Compound wooden door
2) The window of the container coffee shop: PVC material or aluminum alloy with window screen
3) Ground channel: U type, galvanized, thick is 0.8mm
4) Square column: painted, with color steel compression decorative parts
5) Wall beam of the shipping container house: C type with paint
6) Roof beam: with paint
7) Purline: C type with paint
8) Compression decorative parts: made of 0.4mm thick color steel sheet
9) Ceiling: PVC ceiling or aluminum panel for bathroom and kitchen, mineral wool acoustic panel for the other area
10) Wallboard: 50mm EPS color steel sandwich panel, rock wool, PU for the insulation
11) Roof board of the container coffee house: 50mm EPS color steel sandwich panel, rock wool, PU for the insulation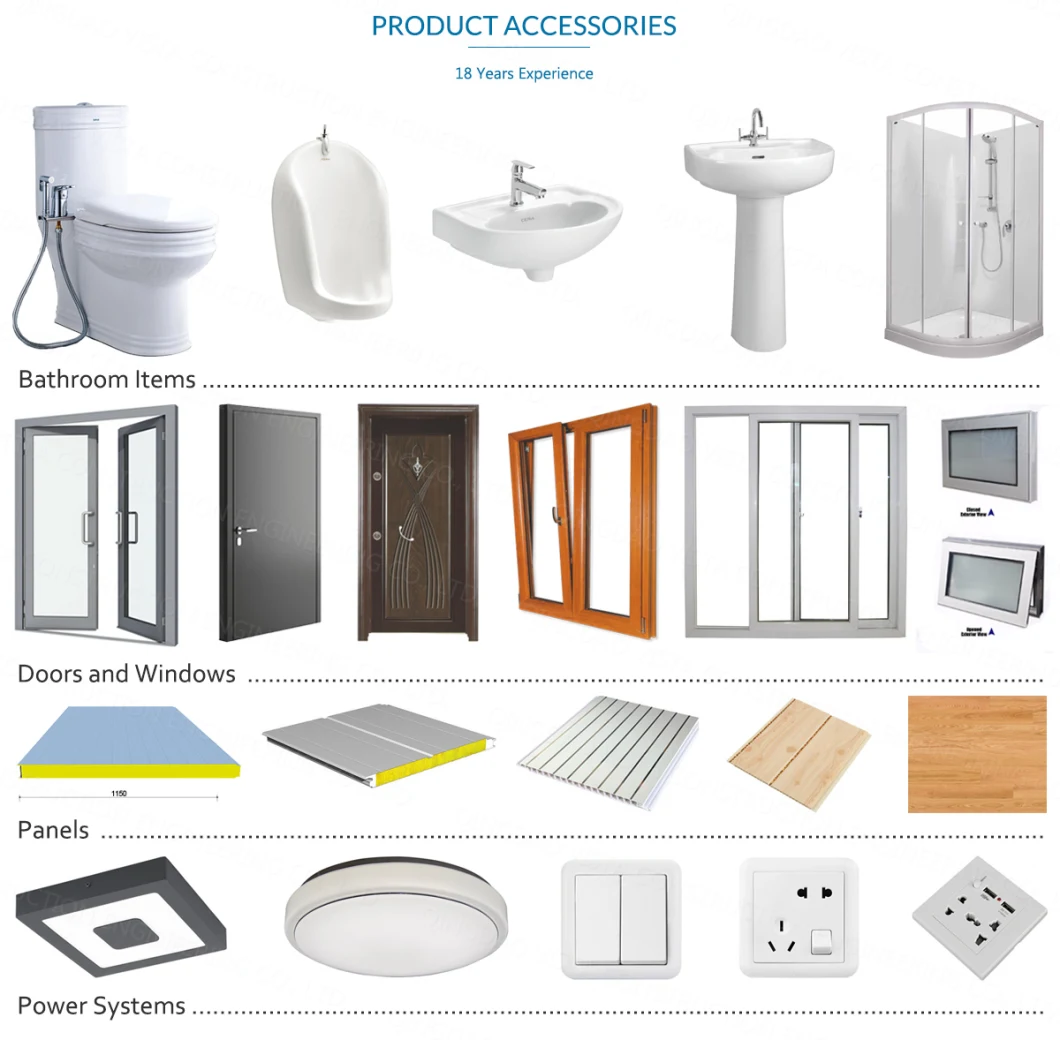 3. Picture Show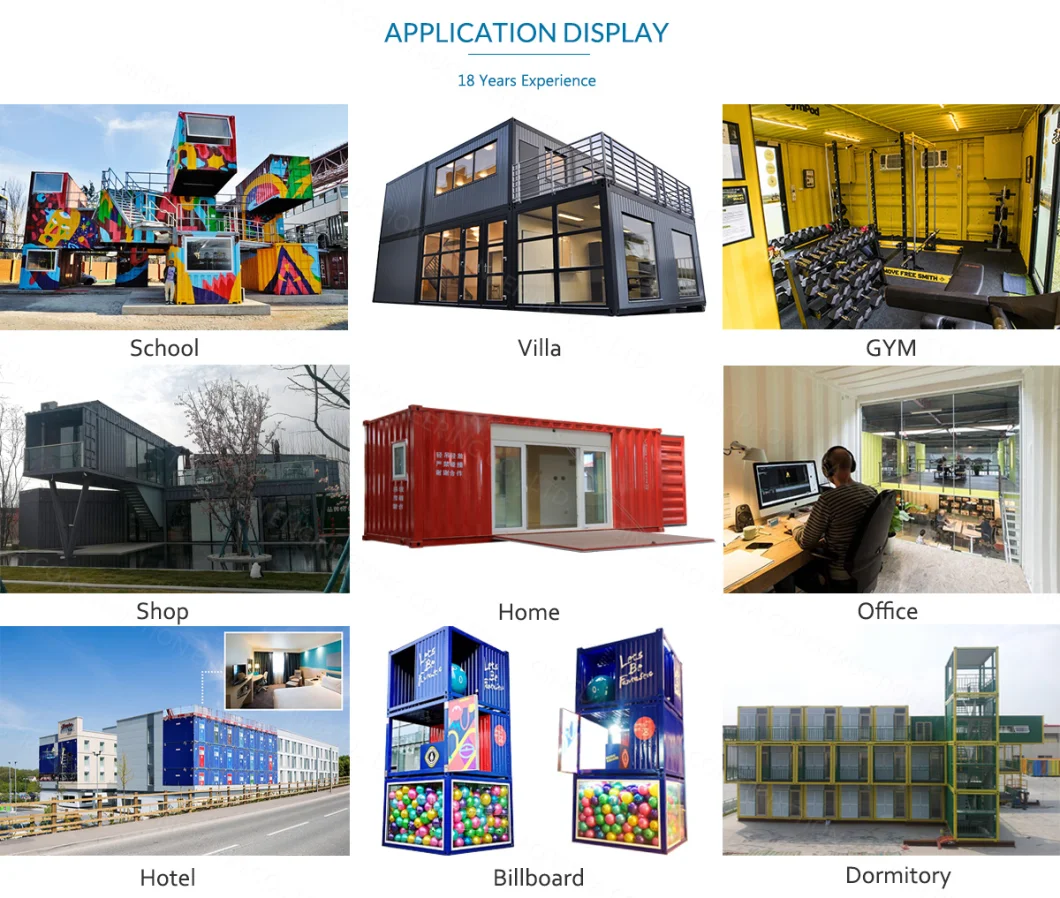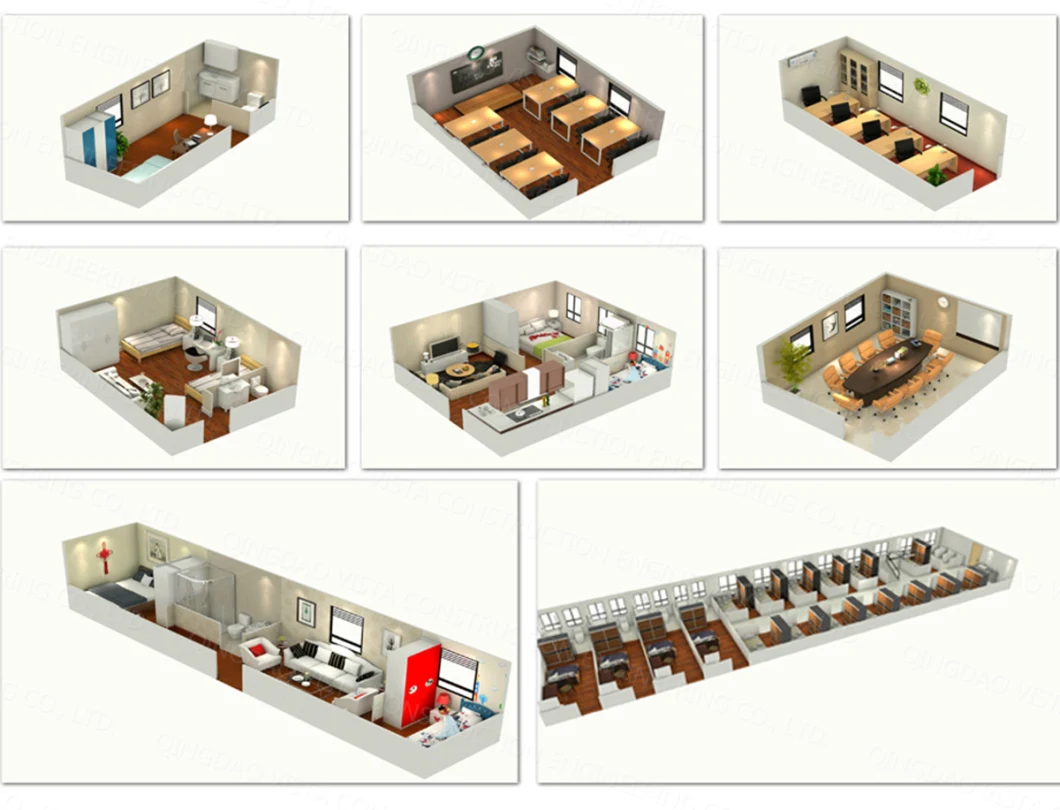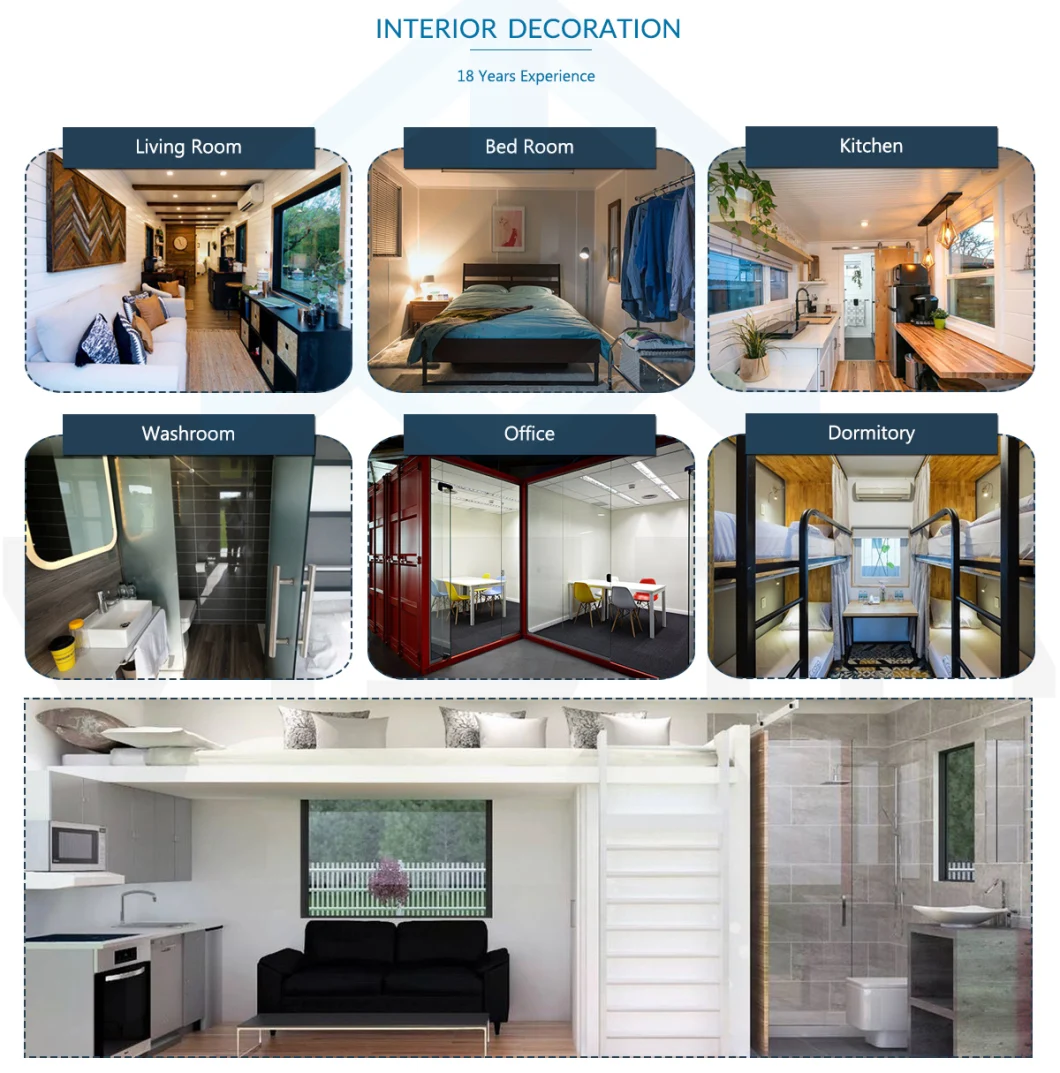 4. Features of the modified container house:
A. The stable frame of modified container house design

Wind load----0.6KN/sq-m

Fireproof degree---- B2-A1

Anti-earthquake capacity-----8 Grade

B. Practical advantages of modified container house design

1 - Experienced building team to assist installation and provide instruction for customer reference

2 - Good in quality and beautiful in design.

3 - Quick installation, easy disassembly, and moving.
4 - Flexible layout, beautiful appearances, and higher space efficiency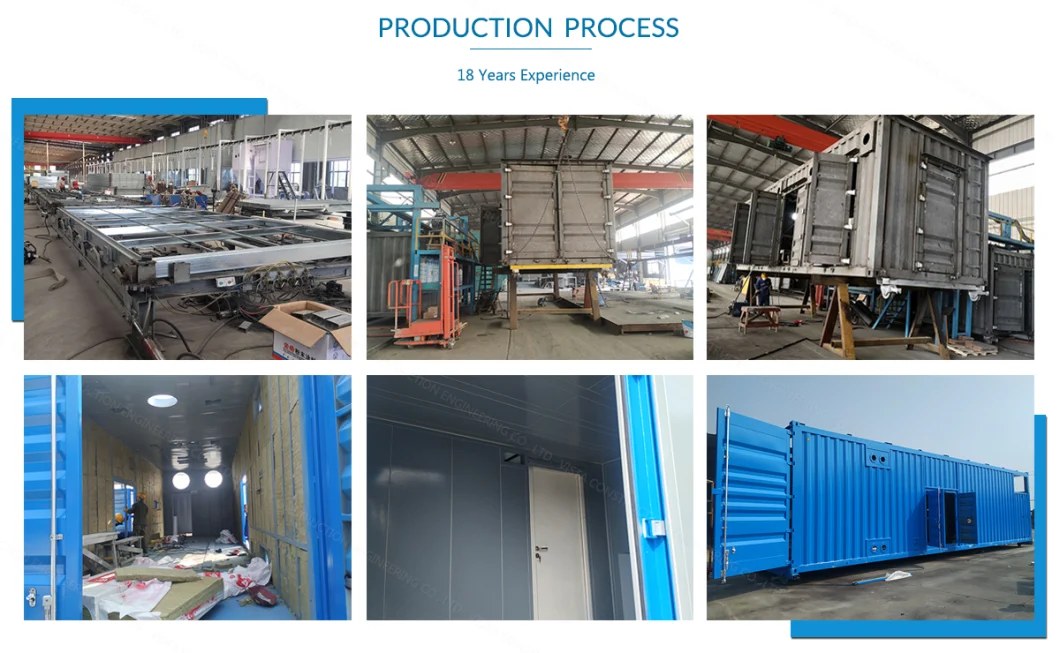 5. How to Choose a Shipping Container
There are two basic shipping container sizes to choose from - 20 by 8 feet (6 meters by 2.4 feet) and 40 by 8 feet (12 meters by 2.4 feet), which provide 160 and 320 square feet (15 and 30 square meters) of space respectively. Regular containers have a height of 8.5 feet (2.5 meters), but a high cube offers 9.6 feet (3 meters). While it is more expensive, a high cube may be worth the extra cost - adding necessities as insulation and plumbing takes away some height.
6. What to Know Before You Build a Container Home

With your shipping container on its way and permits in hand, you are ready to start putting your new home together.
Rather than doing the work yourself, you could buy a completed container home from a builder. If you go the ready-made route, VISTA cautions to make sure the builder understands the local codes in your area. Find out what is included in the quote - the foundation, hooking up the plumbing and electric, delivery and other aspects.
Next, pay close attention to the delivery and placement of your container. If your home will be located in a remote area, make sure the roads are good enough for a big truck to get through. If your foundation is not ready or you do not get the container placed precisely and have to move it later, you will need to rent a crane.
A container home can be a good option for people who want to build their own living space but do not have a lot of construction experience. Instead of having to worry about getting corners straight, you start with the box and can treat it like a remodeling project from there.
7.
Do I need a Foundation?
In short, you will always need a foundation for your shipping container home. This is because the ground moves a considerable amount. The ground can rise, sink or slide. This movement can be sporadic and is usually very slow. Even though it is often barely noticeable, this slight movement can affect how to level your home is.

A foundation provides a solid, stable platform for your building. Without this solid platform, the ground's natural movement can cause the containers to split and separate.

The ground underneath your building can also be comprised of different materials. For example, part of the ground could be hard rock and the other part soft clay. This creates an unevenness that can allow your home to shift since the load isn't equally distributed. One result could be having doors that are incredibly difficult to open and close.

A solid, well built, foundation will ensure the weight is appropriately distributed. It will also help prevent moisture and the corrosion that occurs as a result of this moisture.
Note that if the shipping container home will be relocated within a few months, it is sufficient to use railroad ties for this short time frame.
8. Why Choose Us?
8.1. We have a group of professional engineers, most of whom have more than 10 years' experience in the architecture field.

8.2. Established for more than ten years, our company has got a variety of experiences in design, manufacture, installation and so on. The work staffs have excellent skills. Some of them had helped customers to install the warehouse around the world.

8.3. We also have possessed more than 80 sets of large precise and domestically advanced processing equipment, including large gantry planning machines, automatic submerged arc welding machines, assembling machines, slitters, shot blasting machines and so on.

8.4. besides manufacture according to customers' requirements, we also established a set of production standards. With perfect technique, excellent quality, reasonable price, top-grade services, we have won the favor of lots of customers at home and abroad.

8.5. "Moral personality decides product quality." is our guarantee of the products. "Customers come first." is our everlasting pursuit. Believe your choice; we'll give you a satisfying answer.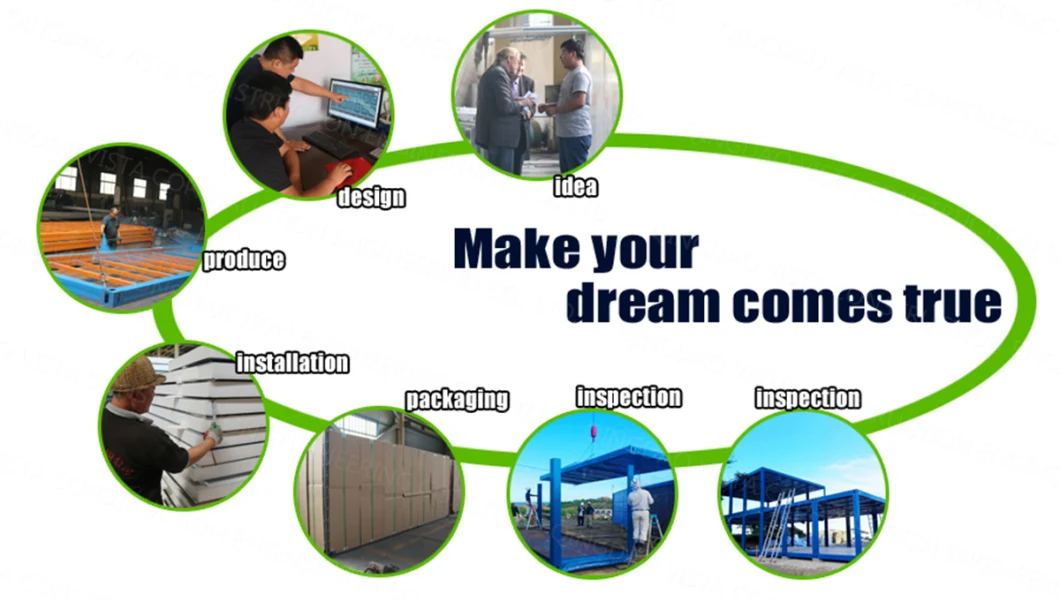 9. Installation Service

* Layout plan can be designed if needed.
* Installation introduction /CD/installation drawing will be provided if needed.
* Engineers and workers can be sent abroad for guidance and installation.

All staff has been preinstalled in the container and you just need put it on site, connect to electricity and water

10. Customized design is welcome, it would be better if you could provide the following information:

1. Usage?

2. Sizes(20ft or 40ft) ?

3. Flat container or modified from a shipping container?

4. Internal layout requirements?

5. Insulation and decoration requirements?

6. Quantity?

11. About Us

Qingdao Vista Construction Engineering Co., Ltd. Located in Qingdao City, Shandong Province, China. With over 20 years of experience in steel structure design, manufacturing, marketing. Now, our business scope extends to high-quality steel structure buildings (such as warehouse, workshop, hangar, chicken house, etc. ), prefabricated buildings, prefab houses, container house, steel structural member, sandwich panels, glass curtain wall, decorative metal panels and so on.

We have professional steel structure engineering contracting the first-class qualification, with more than 50-year-limited warranty in steel building manufacturing & installation. We have professional engineers who can provide the perfect designs according to the customer's demand.